Previous Process
The baseline process was to lay-up this aerospace grade, Y-shaped vent tube in two halves into the female cavity of the cure mold that were joined for cure. This frequently resulted in the laminate being pinched and uneven. It also forced the lap joints to be staggered over the same area, resulting in a thicker composite part with inconsistent strength.
Smart Tooling Process
Smart Tools are rigid at room temperature and after the addition of a barrier film or other release layer, prepreg can be laid up on the rigid Smart Tool with butt joints staggered around the part to result in a 360 degree cured composite part with consistent thickness and strength.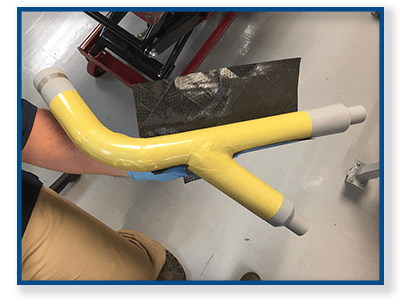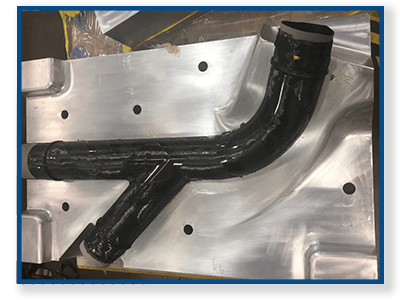 This Y-shaped vent tube also needed a non-permeable liner co-cured on the inside of the composite vent tube. This liner did not stick to barrier films so Smart Tooling manufactured the bladder with a cured release coating that the liner could stick to and it still allowed the Smart Tool to easily be released from the cured composite part.
This new method of manufacture allowed the Y-vent composite to be produced with consistent thickness & strength, lighter, and at a significant cost savings.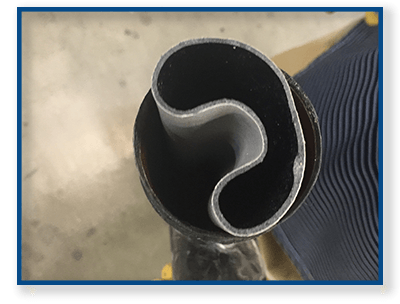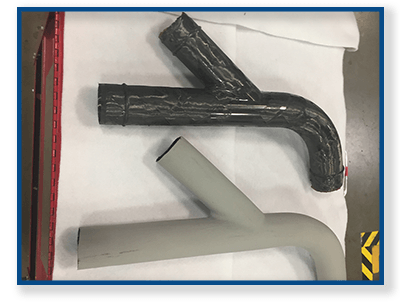 Smart Tooling provides formable, reusable tooling solutions for manufacturing composite parts with complex geometries for the aerospace & defense industry. Smart Tools improve quality, reduce labor hours, decrease consumables, and increase throughput – essentially, Smart Tools enable the manufacturing of composite parts better, cheaper, and faster.
Smart Tooling's Shape Memory Polymers are designed to be aerospace-grade RIGID epoxies at room temperature, and highly FLEXIBLE elastomers when heated, eliminating the need for expensive, laborious, tedious, dirty, and challenging solutions such as melt-out foam, metal breakdown tools, rubber bladders, or washout tooling.
We deliver comprehensive solutions for the manufacture of your composite part, including custom tooling engineering and design, fabrication of molds, Smart Tooling fabrication, initial composite part manufacturing, custom standard operating procedures, onsite start-up support and training, and any future training if required.
Browse our of library of other case studies and applications. For more information on how Smart Tools work and their applications click here.